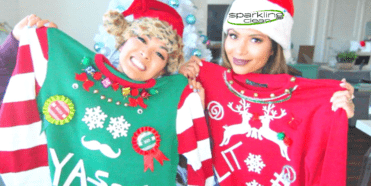 'Twas the night before Christmas, when all through the house
Not a creature was stirring, not even a mouse……
You set down the classic poem by Clement Clark Moore.  "A Visit From St. Nicholas", better known as "The Night Before Christmas", was first published anonymously in 1823, and has become synonymous with Christmas.
You're sipping eggnog on the rocks, wearing your ugly Christmas sweater, while your children bounce off the walls, excited for their expected bounty the next morning.  They've eaten their share of candy and sweets, and have set out a plate of cookies for santa, and carrots for the reindeer.  A glass of milk is poured and set in the fridge, so as not to spoil, and a letter to Santa has been left next to the aforementioned North Pole's Christmas fuel.  The children sign the card in standard Crayola, with careful instructions and a kind gesture to remember the cold glass of milk left for Santa in the refrigerator.
It's time for the children to go to bed.  You tuck them in, and they forcefully close their eyes.  Soon sugar plums, will be dancing through their heads.  Returning to your chair, you take a moment to think about your week.  The first sign of the holiday break, was when the receptionist let out a cheer, "Everyone- Sparkling Clean will soon be here!"
Coming home to a festive home during the holidays is one thing, but coming home to a clean festive home during the holidays is another.  When you've finished over-indulging and you're ready to return to the office, you'll want the same thing: to come back to a clean workspace. 
We encourage you all to take the time to spend with family and loved ones.  Your office is your home away from home, and we hope that when you return, that it's as clean, inviting and comfortable as possible for you to be at. 
"Merry Christmas to all, and to all a goodnight!"
Connect & Follow Below With Sparkling Clean Canada